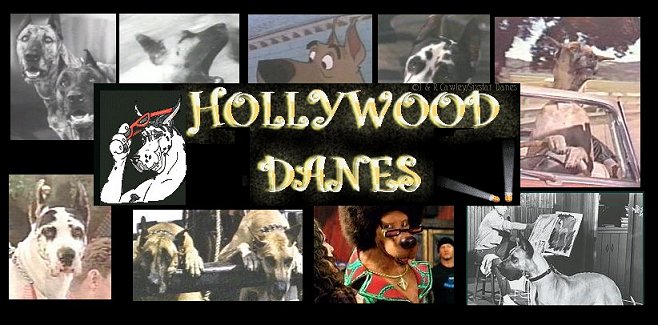 Miscellaneous Videos - DTV, Music Videos and more

Always on the look out for more - EMAIL US!
RETURN TO HOLLYWOOD DANES MAIN PAGE
THE DOG PEOPLE
Year: 1997
Dane name: Francis


This independent short film tells of future when Dog People are suppressed by Anti-Dog people. However one woman rises to buck the system. Francis, a Black Great Dane/ Lab X is featured in this mini-movie. Francis also made it to television (June 2000) in a dog & owner pageant held by the X Show.


DOG PEOPLE
Year: 1998
Dane names: Hoss, Bronx & Jordi

A documentary about the relationship of dogs and their owners through the viewpoint of 4 different 'families'. This documentary which aired on PBS was filmed by The University of Southern California. Two Mismarked Blacks & one natural ear Harlequin Great Dane make their appearance in this film. Note: Danes owned by Sixstar Danes. 'Bronx' bred by Chanoz Danes 'Jordi' bred by Arctic Rose Great Danes.
DOGGY FACES
Year: 1996
Dane names: unknown

This short video (28 minutes) is a collection of scenes of dogs doing what dogs do - mostly sitting and playing. A video your dog may enjoy watching.



Two Danes are seen - one Harlequin and one Fawn.
EYEWITNESS DOG
Year: 1994
Dane name: not given

Eyewitness Dog is a great video with plenty of canine footage and facts. It follow the whats and whys of dogdom along with history and myths. A Fawn Great Dane is seen briefly with many other breeds.

HOT DOGS & COOL CATS
Year: 1997
Dane name: not given

A National Geographic Kids Video from the series Really Wild Animals. What makes a dog a dog?Comparisons of how pet dogs (and cats) are like their wild counterparts.

A Harlequin Dane appears very briefly in one shot.

KIDSONGS: I CAN BOP WITH THE BIGGLES
Year: 1997
Dane name: not given

A music video of kids singing. A Harlequin Great Dane is seen during the whole song, 'Walkin' The Dog'. This is the first song on the video. According to Kidsongs the Dane in this video was supplied by animal handler/trainer Clint Rowe.
PUPPIES
Year: 1994
Pup names: not given

A video all about puppies. Several breeds are shown including Fawn & Brindle Great Danes.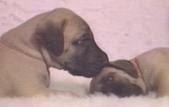 RETURN TO HOLLYWOOD DANES MAIN PAGE