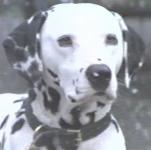 (Male on top, female on bottom)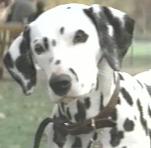 Dalmatian
Expression is alert and intelligent.

Eyes
Set moderately well apart,
medium sized,somewhat rounded &
set well into the skull.

Ears
Thin and fine in texture.
Moderate size,proportionately wide at the base
gradually tapering to a rounded tip.
Set high and carried close to the head.

Head & Muzzle
Flat top of skull with a slight vertical furrow
approximately as wide as it is long.
Cheeks blend smoothly into a muzzle.

Top of muzzle is level & parallel to the top of the skull.
Equal in length to the top of the skull.

Nose
Completely pigmented on the leather.
Either black or brown.



(Male on left, female on right)
Great Dane
Lively intelligent expression.

Eyes
Medium size, deep set.
Eyelids are almond-shaped and relatively tight
with well developed brows.

Ears
Moderate thickness.
High set, medium in size & folded
forward close to the cheek.
Top line of the folded ear should be level with the skull.
If cropped ear ears are carried uniformly erect.

Head & Muzzle
Rectangular, long & finely chiseled
especially below the eyes.
Skull & the muzzle planes straight
& parallel to one another.
Skull under and to the inner point of the eye slopes
without any bony protuberance in a smooth line to a full square jaw with a deep muzzle.

Males are more masculine in appearance.
Females are more delicate.
Cheek muscles should not be prominent.
Head should be angular from all sides with flat planes.

Nose
Completely pigmented on the leather.
Black or black spotted pink nose.