He was our first Dane...
Fence was a shy puppy who'd run when you took pictures of him.
He came from a backyard breeder.
His parents were black & blue.
Sadly, he never developed a hardy immune system.
He succumed to the dreaded Parvo Virus.
He never got to grow up or even have a 1st birthday.
But, in the short time he was with us he touched us deeply.
So much that he forever etched a place in our hearts for his breed.
Fence was definately a Great Dane.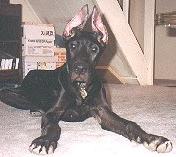 Backyard breeder puppies may be cheap, but they can break your heart.
Please support breeders who are educated
and go the extra distance to produce healthy, quality puppies.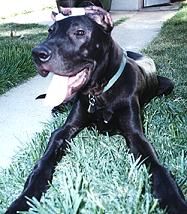 Yes, Fence was definately not a run of the mill name.
His name came to me in a dream.
Thinking about it now, I see he was a vital connection in this 'Dane link' that follows him.

---
Fence is memorialized forever in our heads and hearts.
Below is a poem and reality inspired by him.

I know a woman who has a tattoo.
The tattoo's a memorial for someone she knew.
She bears it proudly upon her calf and happily recalls how he made her laugh.
The ink was only sent beneath her skin, the one it was done for got deeper within.
The needle's pricking was hardly called pain compared to his passing made tears flow like rain.

I know a woman who has a tattoo, a simple silhouette, the ink a deep blue.
Its only a small sized piece of art unlike the hole he left in her heart.
He was her first, called him her son, he paved the way for others to come.
I know a woman who has a tattoo, a Great Dane,the breed she's devoted to.
Now when she walks she's never alone, whether her dogs had to stay at home.

I know a woman who has a tattoo who said she'd add more when time tells her to.
A simple paw print for each passing Dane 'til around her ankle they form a ring.
She does not look forward to adding this art, a promise of flesh for those in her heart.
I know a woman who has a tattoo.
Do you think you can guess who?