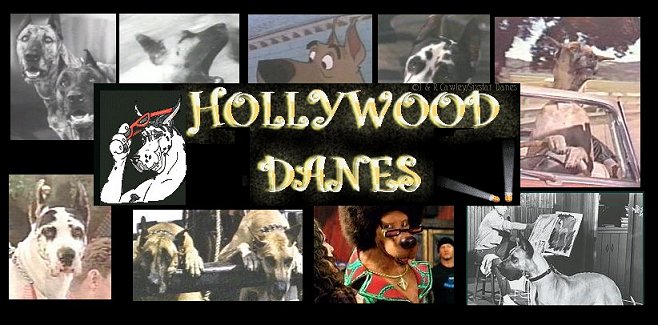 HOLLYWOOD OR BUST
Year: 1956
Dane name: Mr. Bascomb

Arguably the best of the Dean Martin & Jerry Lewis film comedies, as well as their last. Using a fake raffle ticket, Steve (Martin) stakes a claim to Malcolm's (Lewis) prize - a new car. To keep from exposing the scam, Steve agrees to drive to Hollywood so Malcolm can meet his dream star, Anita Ekberg. Malcolm brings along his Fawn Great Dane. While on the trip, Mr. Bascomb sings, drives the car and more. This may be the best movie ever for Dane lovers.

A portion of the trailer for this film can be seen in the movie, Grease, during the drive in scene.

For more images from the film, see below.