TV Series:
SCOOBY, SCRAPPY & YABBA-DOO
Year: 1982
Character:
Yabba-Doo
Character/NONE
Yabba was an Uncle of Scrappy-Doo.
He is a Western Dane voiced by Don Messic.

In the series Yabba worked with Scrappy & Deputy Dusty, to right wrongs.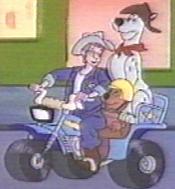 Yabba was a chili lover in which the hotter the chili, the better the chili!
"Well I'll be a coyote's cousin" and "Yippidy Yabbadie Doo!" are two of this Dane's favorite phrases.