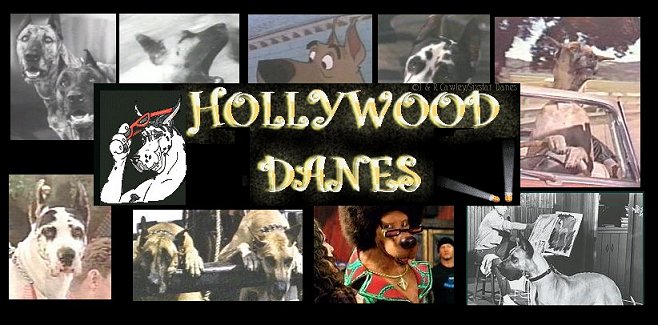 THE UGLY DACHSHUND
Year: 1966
Dane names: Brutus & Piccolina

This Disney feature revolves around Mark Garrison (Dean Jones) and his wife, Fran (Suzanne Pleshette), who raise Dachshunds. After the wife's dog, Danka, gives birth their vet asks if Danka could mother a Dane puppy. Mark agrees much to his wife's dismay. As Brutus grows, his size and confusion about what he is creates numerous problems. With the help of the Harlequin Great Dane bitch, Piccolina, Brutus is able to become a winner.


Note: Disney material states Brutus was played by Pirate of Martincrest & Diego of Martincrest. The Dane 'Duke' from Swiss Family Robinson (1960) was also used in the filming of this movie as a stunt dog. The Harlequin Great Dane, Piccolina Vom Philosophenwald (seen towards the end of the film) was owned by Eva Robinson of Riverwood Ranch & bred by Heinrich Baumann.

The film is barely based on the book by G.B. Stern.