HONDA POWER EQUIPMENT
Year: 2000
Dane names: Waldo & LuLu Belle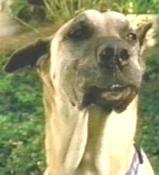 This commercial shows a family using all sorts of Honda Power Equipment to make their yard look its best. When complete a Fawn Great Dane walks into the grass and starts to lower his rump as the owner yells, "Waldo, NO!" The Dane then simply smiles.

There is a second version of this commercial which features an owner calling for LuLu Belle in the beginning. The commercial continues the same but the man yells, "LuLu Belle, NO!" instead of Waldo.