UNDER CONSTRUCTION!


A Great Dane can be a Service Dog?
The answer, yes!

First off what is the definition of a Service Dog...
Service Dogs assist people with a disability.
These special dogs are trained to do many things,
including picking up dropped objects, pulling wheelchairs,
predicting seizures and helping with stability for walking.

FAQs about Service Animals

I thought all Service Dogs were Labradors & Retrievers.
While it's true these breeds make up a large number of Service Dogs
Service Dogs can come in all sizes, breeds and mix of breeds
depending on what tasks are required of them.

We are very proud of a couple of our pups,
Lass & "Fortune" who are among the ranks
of Great Danes with this job.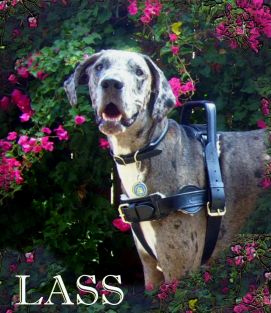 Lass, a lovely natural earred Merle Great Dane,
is a full fledged Service Dog.
She was trained for & by her 2 legged mom, Amanda,
with the assistance from the organization Leashes For Living.

You can read about Lass & her training by viewing her journal.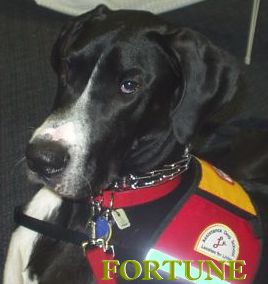 Fortune, a handsome natural earred Mantle Great Dane
is currently in training to be a Service Dog.
He is going through the same program as his older sister, Lass.
Fortune is scheduled to graduate early 2005





Page by Sixstar Danes
Changes last made on Aug 11th, 2004