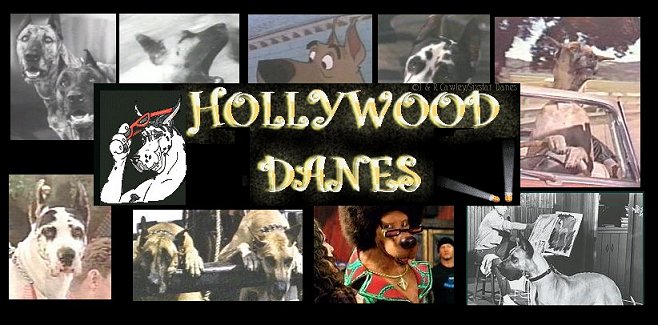 MOVIES: A-F
Click on titles for more info and images


Page concept & contents © Sixstar Danes/ John & Rachel Cawley
All characters © and (tm) their respected owners.
Always on the look out for more - EMAIL US!
RETURN TO HOLLYWOOD DANES MAIN PAGE
101
DALMATIANS
Year: 1961
Dane name: Danny
This movie follows the adventures of two Dalmatians, Pongo & Perdita. When the couple have puppies the pups are kidnapped by Cruella De Vil who has hopes of making a Dalmatian fur coat! To locate their kids, Pongo and Perdita begin the "Twilight Bark", a communication system for canines. In the sequence, Danny assists in spreading the news. The movie was remade as a live action film in 1996.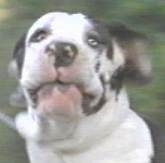 101 DALMATIANS
Year: 1996
Dane name: Not given
A live action version of Dodie Smith's novel about dognapped Dalmatian puppies. In this version, a natural ear Harlequin Dane is seen briefly in the part at the beginning of the film where Pongo and Perdita meet.


AFFAIR IN TRINIDAD
Year: 1952
Dane name: not given
A man (Glenn Ford) is summoned by his brother to come to Trinidad. When he arrives, he finds his brother dead. A Great Dane appears briefly as a guard of an estate owned by a mysterious man who may just be the murderer.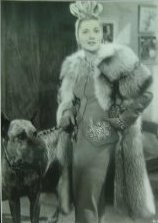 THE AFFAIRS OF SUSAN
Year: 1945
Dane name: not given
Susan (Joan Fontaine) is set to be married when her fiance brings three of her old boyfriends. Each tell a tale about Susan, who seems a totally different girl in each story. A Brindle Great Dane appears briefly.

ALOHA, SCOOBY-DOO
Year: 2005
Dane name: Scooby-Doo
Direct to video movie has Mystery Inc hitting the beaches in Hawaii for a surfing contest. They run into an active volcano and a mysterious spirit warning against the building of a new resort on the beach.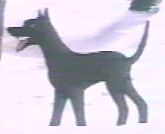 ANIMAL FARM
Year: 1954
Dane names: not given
British animated feature based on George Orwell's political satire of the Russian Revolution. A group of farm animals revolt against the human farmers and set up their own farm. The new leadership makes the animals not sure they are better off. A pack of dogs which resemble Black & Blue Great Danes guard the leaders.


BACK TO GOD'S COUNTRY
Year: 1919
Dane names:Tao & Wapi
Based on a story by James Oliver Curwood. When Tao's Eskimo owner is killed, the Dane is forced into a rugged life. His son, Wapi, is a vicious sled dog. When Wapi meets a caring woman he helps her save her husband from a ruthless killer. A Black or Blue Great Dane plays both parts.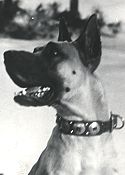 BACK TO GOD'S COUNTRY
Year: 1953
Dane name: Wapi
Based on a story by James Oliver Curwood, about a Great Dane sled dog. This version starred Rock Hudson. (Originally filmed in 1919.)

BACK TO THE FUTURE II
Year: 1989
Dane name: not given
The sequel to BACK TO THE FUTURE. In this one, Marty and the Professor go into the future. In a brief shot, a Fawn Great Dane is seen in the background being walked on an automated leash with no owner.


THE BAREFOOT EXECUTIVE
Year: 1971
Dane name: not given
Disney feature starring Kurt Russell about a monkey that can pick top rated shows. In one sequence some folks are sneaking around the ledges of a building. A Fawn Great Dane is seen in one of the windows of the building.


BATHING BEAUTY
Year: 1944
Dane name: Duke
Red Skelton stars as songwriter, Steve Elliott. when he announces plans to retire after marrying, his agent hires a lady to disrupt the wedding. Steve's bride leaves him and returns to teaching in an all girl school. Steve then enrolls in the school to win her back. In one scene, Skelton is trapped in a house by a large Great Dane called Duke. In order to escape, he unhinges the door and switches places with the dog. The gag is reported to have been conceived by Buster Keaton.


BEACHES
Year: 1988
Dane name: Arthur
This film tells the story of two girl friends growing up. Dane portraying Arthur is Ch. Calico Rock's Essex v. Zanadane owned by Joann Barbaro.


BEETHOVEN'S 2ND
Year: 1993
Dane name: Jaws
This sequel follows the famous Saint Bernard, Beethoven, and his puppies. At a county fair, Beethoven participates in an eating contest. Jaws, a Harlequin Great Dane, is also a contestant.


THE BELLBOY
Year: 1960
Dane name: not given
Jerry Lewis stars in this series of blackouts about a bellboy at a hotel on Miami Beach. In one sequence, he is to take the guests' dogs out for a walk. The pack includes a large Black Great Dane.


BLACK SUNDAY
Year: 1960
Dane name: (hard to understand)
Mario Bava's cult classic about a witch burned at the stake returning to life centuries later. A pair of mismarked black Great Danes belongs to one of the witch's victims. They appear in the film three times. It sounds as if someone speaks the Danes' names, but it is too low to fully understand. This was first released in Italy as La Maschera del demonio. Other release titles include The Demon's Mask, The Hour When Dracula Comes, House of Fright, The Mask of Satan, Mask of the Demon and Revenge of the Vampire.


BLONDIE & DAGWOOD: IT'S A GREAT LIFE
Year: 1943
Dane name: not given
This movie is another in the Blondie series starring Penny Singleton and Arthur Lake. This time Dagwood gets involved with a horse that ends up in a foxhunt. During the foxhunt, a number of dogs join in the chase. One is a Brindle Great Dane.

BLONDIE IN SOCIETY
Year: 1941
Dane name: CH. Chin Up White Tie For Dinner
This movie is from the long running series based on the comic strip created by Chic Young. In this entry, Dagwood comes home with a Fawn Great Dane in payment for a debt. Blondie is angry, but cannot find anyone to take the dog. To raise money, Blondie enters him in a dog show. Chin Up wins and suddenly everyone claims to be Chin Up's owner!


BOY OF FLANDERS
Year: 1964
Dane name: Petrasche
Silent film based on Ouida's book "A Dog of Flanders" stars Jackie Coogan and Keystone Teddy . A Dutch orphan (Coogan) is mostly friendless except for his canine friend, Petrasche (Teddy) and a young girl. The girl's father is the richest man in the city and he does not approve of his daughter's friendship. He attempts to get the boy banished from the city. When all looks lost for the boy, his artistic talent is discovered.
THE BRASS BOTTLE
Year: 1964
Dane name: unknown
When a businessman (Tony Randall) finds a brass bottle, he discovers it contains a Genie (Burl Ives). While granting wishes, the Genie creates more trouble than before the wish. In a scene two Fawn danes are seen.


BREAKFAST FOR TWO
Year: 1937
Dane name: PeeWee
A Texas heiress (Barbara Stanwyck) competes with a gold digger (Glenda Farrel) for the love of a playboy (Herbert Marshall). The Dane, a heavily marked Harlequin male, is owned by the playboy. Named "PeeWee", he is featured quite a bit throughout the movie. It has been suggested that PeeWee talks.


BRUNO aka THE DRESS CODE
Year: 2000
Dane name: Baby
The story of a boy genius, Bruno. It stars Shirley Mclaine and Gary Sinise. One of Bruno's friends is hired to walk a Great Dane named Baby.

THE 'BURBS
Year: 1989
Dane name: Llandro
Tom Hanks stars in this movie about a bunch of nosey neighbors so preoccupied with what is taking place behind the closed doors of a newcomer that they'll do anything look inside. At one point, a pet fawn Dane appears to chase off one neighbor.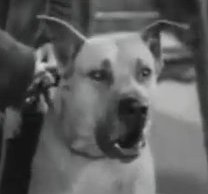 CALL OF THE WILD
Year: 1935
Dane name: not given
Clark Gable stars in this version of Jack London's classic tale of a dog (Buck) that returns to the wild when his owner is killed. This film version takes more time with the humans than Buck. An aggressive Fawn Great Dane appears briefly.


CALLING ALL CURS
Year: 1939
Dane name: not given
The Three Stooges are running an animal hospital. When the dinner bell rings, two Fawn Danes are seen in the pack of dogs running on their way to dinner. (One of the Danes is called away momentarily then re-appears, giving the impression there are three Danes.) A brindle Dane is sitting at the table during the eating sequence.


CAT, DOG AND COMPANY
Year: 1927
Dane name: not given
This silent short stars the Little Rascals. One of the kids dreams they are put on trial by animals. This makes him and the other Rascals go on a spree releasing pets and animals. A natural earred Fawnequin Dane is one of the dogs and also portrays a policeman in the dream sequence. (This appears to be the same dog as seen in DOG HEAVEN from 1927)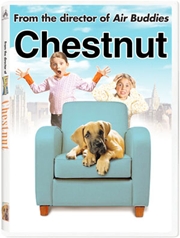 CHESTNUT: HERO OF CENTRAL PARK
Year: 2004
Dane name: Chestnut
Two sisters live in a high rise apartment that does not allow dogs. But when they find Chestnut, they bring it home and hide him from their parents and the apartment manager. The Dane's ears miraculously go from natural to cropped as he ages.
CHILL OUT, SCOOBY-DOO
Year: 2007
Dane name: Scooby-Doo
Direct to video movie has Mystery Inc heading to Paris when Shaggy and Scooby take the wrong flight and end up in the Himalayas where they run into the abominable snowman.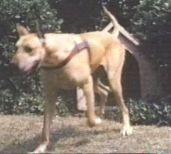 A COUNTRY COYOTE GOES HOLLYWOOD
Originally an episode of Walt Disney's Wonderful World of Color
Airdate: December 19, 1965
Dane name: Brometheus
When Chico, a coyote, is chased into the back of a moving van he ends up in Hollywood and learns the ins and outs of being an urban coyote. In one fairly long scene the coyote leads a Fawn Great Dane, doghouse and all, away so he can steal his breakfast. Released theatrically as a short and later on home video.
COUNTRY GENTLEMEN
Year: 1936
Dane name: Prince/Fluffy
Famed comedy duo of Olsen and Johnson (of HELLZAPOPPIN fame) are two conmen working in a small town. A Great Dane named Prince (also called Fluffy) is seen frequently.

CROMWELL
Year: 1970
Dane names: not given
Epic film telling the tale of the conflict between Britain's Puritans and the Royalty through the eyes of Oliver Cromwell (Richard Harris). In the castle of King Charles the First (Alec Guinness), a natural ear fawn Dane is seen briefly at a dinner sequence and in another scene later.


A DATE WITH JUDY
Year: 1948
Dane name: not given
This musical shows teens getting ready for a dance. At one of the girls' home a Fawn Great Dane is seen briefly.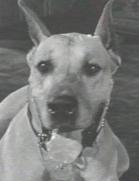 DEAD RINGER
Year: 1964
Dane name: Duke
Bette Davis stars in this suspense film about twin sisters and a change of identity. One of the sisters owns a fawn Great Dane.


DEATH OF A CHAMPION
Year: 1939
Dane name: Prince Dansker
When a millionaire's Harlequin Great Dane mysteriously dies at a dog show, it begins a string of murders. An encyclopedia salesman and his young assistant (a very young Donald O'Connor) try to solve the mystery. Several Great Danes (Harls, Fawns and Brindles) are seen at the dog show in the beginning of this movie.

DEVIL DOG: THE HOUND FROM HELL
Year: 1978
Dane name: Prince
When a family loses their dog to an accident, they purchase a new puppy. The seller is actually a satanist that has possessed the dog. The dog begins to take control of humans and terrorize the family. The Great Dane is not the Devil Dog. (NOTE: We have not seen this film as yet to confirm the information.)


DIG THAT DOG
Year: 1954
Dane name: Cuddles
A man buys a pet Great Dane and teaches him to bury scraps in the backyard. The Dane is a quick study and begins to bury everything in the backyard - refrigerators, mailmen, etc. A Walter Lantz cartoon.
DOCTOR DOLITTLE
Year: 1967
Dane name: Rufus
Doctor Dolittle (played by Rex Harrison) can talk to animals. In a court room scene Dolittle attempts to prove he can talk to animals by finding out what the Judge had for dinner by asking the Judge's dog - Rufus, a Great Dane. This Great Dane, named Baron in real life,is the same dog who plays Albert in LIVE A LITTLE, LOVE A LITTLE (1968).


DOG HEAVEN
Year: 1927
Dane name: not given
This silent short stars the Little Rascals. The kids' dog, Petey, tells how he is about to commit suicide due to his owner's love affair with a girl. A natural earred Fawnequin Dane appears briefly to push the little girl into a river. This appears to be the same dog seen in CAT, DOG AND COMPANY (1927).

DOG PARK
Year: 1998
Dane name: not given
Romantic comedy about several relationships that center around a local dog park. One recurring sequence features dogs in obedience training. A natural ear Harlequin Great Dane is in the class.

DOG TALES
Year: 1958
Dane name: Victor Barky
This Warner Brothers cartoon features a series of gags about dogs. It includes a Fawn Great Dane giving an impression of pianist Victor Borge, who was commonly referred to as
the "Great Dane".

DUCK SOUP
Year: 1933
Dane name: not given
The classic Marx Brothers farce in which Groucho is placed in charge of the fictional kingdom of Freedonia. When Groucho meets Harpo, Harpo uses the tattooes on his body to answer Groucho's questions. Groucho asks where Harpo lives. Harpo reveals a dog house tattooed on his chest. A fawn Dane pops its head out of the doghouse tattoo and barks.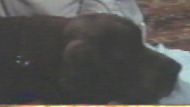 DUEL OF HEARTS
Year: 1993
Dane name: not given
A movie of intrigue and romance, based on a book by Barbara Cartland. At around 20 minutes into the film, Lady Caroline Faye visits her father's estate and briefly pets a natural earred Blue.


EAST IS EAST
Year: 1999
Dane name: not given
A british film about a family living in England struggling with their father who wishes to raise his children in a strict Muslim fashion. The logo features a natural earred Harlequin Dane which also appears in the movie a few times, most memorably is his forwardness to a neighbor woman. Screen & presskit credit states this Dane is portrayed by Blake.
EASY MONEY
Year: 1983
Dane name: King
Rodney Dangerfield stars in this comedy about a guy who has to clean up his act to inherit a fortune. One of his neighbors owns a Black Great Dane.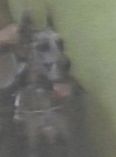 EATING RAOUL
Year: 1982
Dane name: Trigger A bawdy comedy of sexual manners. A married couple raises money for their restaurant by attracting and then killing "swingers". In a brief scene, one of the "swingers" comes to their apartment with his merle Great Dane.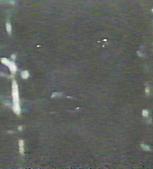 ESCAPE TO WITCH MOUNTAIN
Year: 1975
Dane names: not given
Disney feature about a pair of orphans with special powers who go on a quest to discover their mysterious past. A millionaire discovers the kids powers and holds them prisoners in his mansion. On this property are a pack of 6 black Danes. The main title has animated Danes running.


THE EXTRA GIRL
Year: 1923
Dane name: Teddy
This silent feature tells the tale of a country girl (Mabel Normand) who comes to Hollywood to become a star and ends up in the wardrobe department. In one scene, Keystone Teddy, a lightly marked Brindle Great Dane, is dressed up as a lion!


FACE OF MARBLE
Year: 1946
Dane name: Brutus
Monogram horror feature about a pair of doctors trying to bring the dead back to life. One of the doctor's (John Carradine) wife owns a fawn Dane who unwittingly becomes part of the experiment.

FANCY PANTS
Year: 1950
Dane name: not given
Bob Hope is an actor impersonating a butler in the old West who is mistaken as an Earle. A fox hunt is arranged using the local dogs. A Merle Great Dane is seen in the pack as it chases the villain up a tree.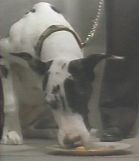 FOR LOVE OR MONEY
Year: 1993
Dane name: not given
Michael J. Fox works in a hotel and pampers the guests in hopes of big tips. To get one tip, he takes a guest's dogs for a walk. One dog is a Harlequin Great Dane.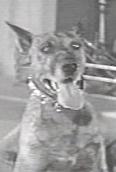 FOREIGN CORRESPONDENT
Year: 1940
Dane name: (hard to understand)
Classic Alfred Hitchcock film about a New York reporter (Joel McCrea) assigned to cover a secret European treaty, only to discover a band of spies! A Brindle Great Dane appears twice.


FOUR'S A CROWD
Year: 1938
Dane name: not given
Robert will do anything to get that big account... and he does. One scene features a man being run off the property (not once but twice!) by nearly a dozen cropped and one natural ear Fawn Danes. Later the Danes give chase again!


RETURN TO HOLLYWOOD DANES MAIN PAGE
Movies: G-R
Movies: S
Movies: T-Z