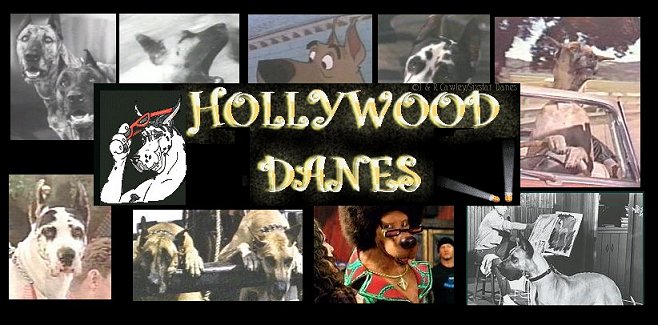 MOVIES: T-Z
Click on titles for more info and images


Page concept & contents © Sixstar Danes/ John & Rachel Cawley
All characters © and (tm) their respected owners.
Always on the look out for more - EMAIL US!
RETURN TO HOLLYWOOD DANES MAIN PAGE
A TALE OF TWO CITIES
Year: 1935
Dane names: not given
Black and white version of Charles Dicken's novel about the French Revolution starring Ronald Coleman. Six Danes (4 Fawns & 2 Harlequins) appear in one scene at the castle. They are being fed when peasants break into the yard to steal the Danes' meat.


TEDDY AT THE THROTTLE
Year: 1917
Dane name: Teddy
When an unscrupulous guardian tries to grab Gloria's fortune, it is up to her Fawn Great Dane, Teddy, to come to the rescue. Keystone Teddy is a Fawn or lightly marked Brindle Great Dane seen in several Keystone Comedies of the era. In this film, he sings with Gloria, dances with her maid, stops a train, saves the girl and reunites her with the right man.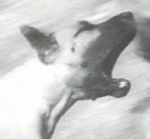 TEENAGE CAVE MAN
Year: 1958
Dane names: not given
A black and white cult favorite about a young caveman (Robert Vaughn) making a shocking discovery. At one point, a pack of three Fawn Great Danes running with a couple Irish Wolfhounds attack the cave dwellers.


THE THREE MUSKETEERS
Year: 1973
Dane names: not given
This version of the classic Alexander Dumas tale of the king's Musketeers stars Oliver Reed, Richard Chamberlain, Frank Finlay and Michael York. The film features two black and two harlequin Danes as pieces in a game of chess played with real dogs.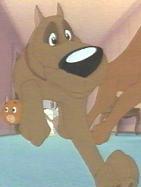 TOM AND JERRY: THE MOVIE
Year: 1993
Dane name: not given
This animated feature stars the famous cat and mouse created by Hanna-Barbera. The feature has the pair joining forces to rescue a little girl. One of the villains is a vet who actually kidnaps pets for ransom purchases. When Tom and Jerry let the trapped pets out, a chocolate Great Dane is seen making an escape.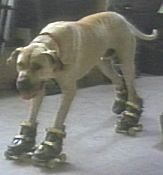 THE TRUTH ABOUT CATS AND DOGS
Year: 1996
Dane name: Hank
Hank, a roller skating natural ear Fawn Great Dane mix, is the catalyst that brings a photographer (Ben Chaplin) and a radio talk show vet (Janeane Garofalo) together. Note: Hank is listed in the credits as played by Hank the Dog. Since they have similar names and trainers, it is most likely that this Dane is "Hank/Franky" seen in IN THE DOGHOUSE (1998).


TURNABOUT
Year: 1940
Dane name: Dopey
A bcomedy about a husband and wife that switch bodies for a day. The couple have a Brindle Great Dane. The husband loves and plays with the Dane. The wife thinks the dog is too large.


THE UGLY DACHSHUND
Year: 1966
Dane names: Brutus & Piccolina
This Disney feature revolves around Mark Garrison (Dean Jones) and his wife, Fran (Suzanne Pleshette), who raise Dachshunds. After the wife's dog, Danka, gives birth their vet asks if Danka could mother a Dane puppy. Mark agrees much to his wife's dismay. As Brutus grows, his size and confusion about what he is creates numerous problems. With the help of the Harlequin Great Dane bitch, Piccolina, Brutus is able to become a winner. The film is loosely based on the book by G.B. Stern.


THE UNDYING MONSTER
Year: 1942
Dane names: not given
A family is cursed to die at the hands of a werewolf. A detective tries to help. Photos show Great Danes live in the house.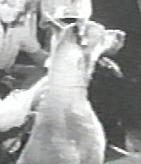 VARIETY GIRL
Year: 1947
Dane name: not given
A musical comedy featuring a variety of stars (Bob Hope, Spike Jones, etc.) auditioning for a show. A Fawn Great Dane, seen only from the back, apparently is trying out for the show.


VOLCANO
Year: 1997
Dane name: Not given
Disaster movie about a volcano that erupts in downtown Los Angeles. A little over an hour into the film, while patients are being treated at Cedars Sinai Hospital, a TV report is being watched showing vets assisting injured animals. One of the animal patients is a Blue Great Dane.


WAGNER
Year: 1983
Dane names: not given
Richard Burton portrays the famous composer in this TV mini-series shot in Europe. In a few scenes in the woods, two Harlequin Danes are briefly seen.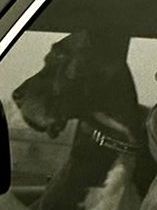 WINGS OF DESIRE
Year: 1987
Dane name: Blackie
This black & white English subtitled film's story is of an angel who falls in love with a circus performer. A Black with white natural earred Great Dane is seen briefly in a car towards the beginning of the movie. (Remade in the US as CITY OF ANGELS.)


WUTHERING HEIGHTS
Year: 1939
Dane name: not given
The classic tale of forbidden love. A father returns home with a scraggly orphan boy in tow. The man's son detests the orphan, but his daughter grows to enjoy the newcomer's company. This version stars Laurence Olivier and Merle Oberman. The Dane appears briefly at the beginning of the film.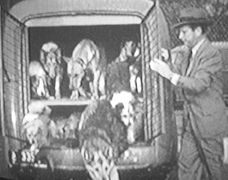 YOU NEVER CAN TELL
Year: 1951
Dane name: not given
A German Shepherd is left 6-million dollars from his eccentric late master. The dog is poisoned and goes to heaven but he's given his wish to be sent back as a human named Rex (Dick Powell) so that he can catch his killer and clear the name of his master's secretary. About halfway through the film, Rex frees the dogs in a dogcatcher's wagon. A Fawn Great Dane is among the dogs freed.


RETURN TO HOLLYWOOD DANES MAIN PAGE
Movies: A-F
Movies: G-R
Movies: S